Trend: Moms demanding comfort during childbirth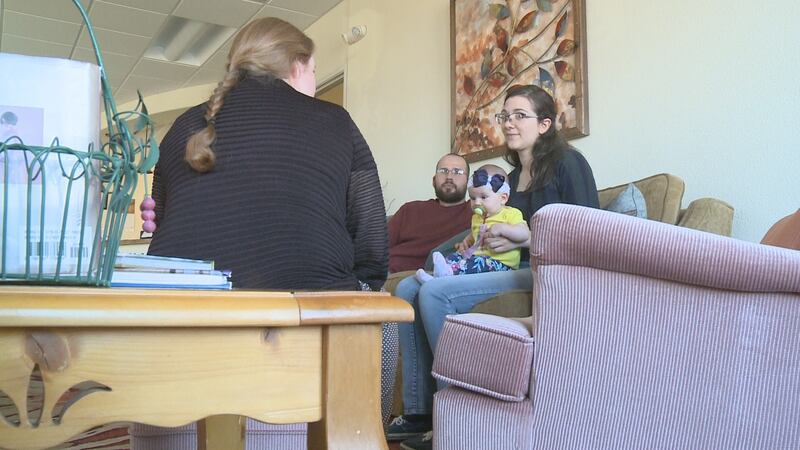 Published: Oct. 27, 2016 at 7:03 PM MDT
For most moms, child birth takes place in a typical hospital setting with doctors and nurses. According to the Centers for Disease Control and Prevention, almost 99 percent of births take place in the hospital.
Nearly 4 million babies were born in 2010. Now, more pregnant women are taking charge of their deliveries, as changing trends in birthing make labor a more relaxing experience.
Having a baby can be a roller coaster of emotions – pain, stress and, of course, joy.
"There are lots of studies out there that prove changing the environment, whether it be through clothing such as a different gown, scents on their own pillow, or their own music; those kinds of things actually provide comfort," said Kristel Vanhoose, a registered nurse and lactation specialist at Community Hospital.
New trends benefiting expectant moms are catching on. Women are now demanding comfort during child birth, and many are looking for a less sterile and homier environment.
An innovative hospital gown is one way women are feeling more comfortable during child birth.
It's called a "Pretty Pusher." The gown has easy access points to the wearer's stomach and back. Shoulder straps usually untie or unsnap for easy skin-to-skin contact and breastfeeding. The material is softer than a traditional hospital gown and they come in different feminine patterns and colors.
One local Doula, Erin Pifer said it has made a difference. She studied midwifery in Australia then practiced as a midwife in Zambia and India.
"When you're in labor, when you're in a lot of discomfort, this can give you more confidence in what you're doing and in turn, make you're labor go smoother," said Erin Pifer.
"They provide comfort for women but also accessibly for what the medical team needs," said Vanhoose.
The new gown is one way Community Hospital is trying to stay ahead of the curve. They want to offer something different than a traditional hospital atmosphere, especially in the labor and delivery unit.
"During the labor and delivery process, it's a very vulnerable time for our moms, and the patients' families, anything we can do to help make them comfortable, makes them feel more homey," said Brooke Sorenson , a registered nurse with Community Hospital. "Most people would generally pick the pretty pusher gown over the general hospital gown."
"I do feel that the interior decorators were very honed in on providing a warm place. We also provide continuity of care, where your nurse not only labors you, but they help you recover and also see you on a postpartum basis," said Vanhoose.
Despite these changes, some parents are deciding to skip the hospital all together. Francesca and Rueben Corbett said having their baby at a birth center was an easy choice.
"They don't treat you like your sick because you're not sick. Your body was made to do this," said Francesca Corbett. "Moms should feel empowered, this is the most amazing and beautiful thing we can do as women."
She said the rooms have a personal touch and are designed to make you feel right at home. Her husband Rueben was right by her side at the birthing center.
"The smell of the place, it doesn't smell like cleaners. You don't have put on scrubs, you just walk in the clothes that you are wearing, it's totally fine. It was really relaxing that way – the lightning was great, dim room, very calm," said Reuben Corbett.
"It was really beautiful, my favorite part was right as she was born, they just sat her on top of me and immediately they helped her start nursing and we just got to lay there and become a family. Nobody poked and prodded nobody, tried to take the baby away," said Francesca.
Reuben added that he believes dads should be more involved in the labor and delivery process.
"Jeana (the midwife) had me come over and help the baby out. I got to be part of it and I didn't get pushed aside or get told 'get out of the way,' 'you don't know what you are doing.' It was great," Reuben said. "The husband plays a part in something that he helped create. It wasn't that big of a role, but it's kind of like the father being there to the end kind of finish what you started type of thing."
The Corbetts make their own baby food and baby wipes. They also use all natural medicine and essential oils as a routine at home. The couple is also hoping to be a mentor for other parents who are expecting and guide them through the birth center process.
"Every woman deserves to have a birth that she wants," said Francesca.
For more information on a number of resources for expectant moms check out the right side of this screen.
"Pretty Pushers" Gowns
"Pretty Pushers" are available for moms in the labor and delivery unit at Community Hospital.

They can also be purchased at Colorado Baby on 6th and Main Street in downtown Grand Junction.
Bloomin' Babies Birth Center
Many birth centers follow the Midwifery Model of Care.
That model of care includes, monitoring the physical, psychological, and social well-being of the mother throughout the childbearing cycle, according to the Citizens for Midwifery website. They said they provide mothers with individualized education, counseling, and prenatal care, continuous hands-on assistance during labor and delivery, and postpartum support.
To learn more about the Birth Center contact Bloomin' Babies with the following information:
2241 7th Street in Grand Junction or call 970-549-1711.