Candidates get behind the scenes tour of election offices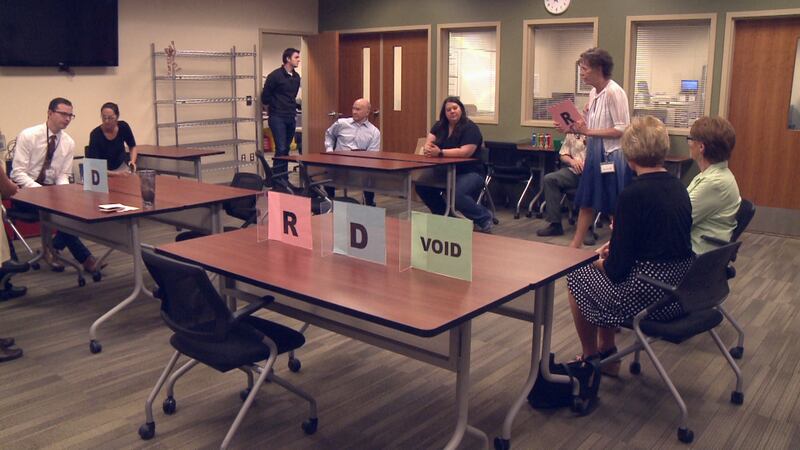 Published: May. 14, 2018 at 6:35 PM MDT
With deadlines fast approaching, candidates running in the primaries got a behind the scenes tour Monday of the election process.
"It's important for them to have a solid base of what the elections look like so they can help us and go and educate voters," said Sheila Reiner, the outgoing Mesa County Clerk & Recorder who is also running unopposed in the Republican primary for Treasurer.
A lot of technology is used to make sure ballots are properly counted and checked. Other innovations make sure the votes not only are logged correctly but securely.
"Everything is hard-wired locally," Reiner said. "There is nothing in the [voting] system connected to the internet."
"I was very impressed with the process with the security they have built in to process," said Rep. Dan Thurlow (R-District 55) who is running against Sen. Ray Scott for a Senate seat. "They are not connected to the internet so the Russians or anyone else can hack into the system."
"I love the advanced technology that it has today," said Mesa County Treasurer Janice Rich, a former Clerk & Recorder. She's running unopposed in the Republican primary for Thurlow's District 55 seat. "We used to do everything a little more old school so it's great to see the advances that elections have made."
A big change for election officials this year is unaffiliated voters being allowed to vote in the primaries.
Those votes will be broken out separately and reviewed by three election judges to determine if the voter filled out a Republican or Democrat ballot. If both were returned, then the judges will determine what the voter's intent may have been or if they can't, throw out the ballots.
If you are an unaffiliated voter, you can choose which party's ballot you want to be sent if you don't want both shipped to you. You can select that by
by the end of this week.
You can get a tour of the election process yourself by contacting the Mesa County Election's Office at (970) 244-1662
Here is a rundown of events and deadlines in the primary process for Mesa County:
May 11 - Military and Overseas Ballots are sent/available
May 29 thru June 1 - Election Judge Training
May 30 - Logic and Accuracy Testing of Voting System
June 4-8 - Ballots mailed
June 11 - Tabulation begins
June 26 - Unofficial Results Reported at 7:00 p.m.
July 7-9 - Audit and Canvass
Between July 9 and July 16 - Official Results