3rd lawsuit filed against Sunset Mesa Funeral Directors and owner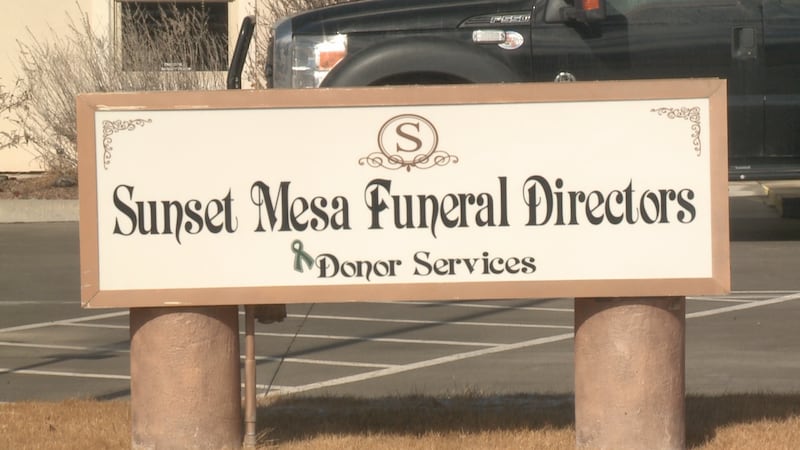 Published: Jan. 7, 2019 at 4:24 PM MST
A third lawsuit was filed Monday morning against Sunset Mesa Funeral Directors, Donor Services and their owner Megan Hess.
This time it comes from a victim down in Durango who says her mother and father were sold and dismembered without permission.
The funeral home is under FBI investigation for allegedly selling body parts and giving customers fake ashes in return.
Terri Thorsby from Durango says her parent's body parts were taken and sold without permission.
Her lawyer Chris Cowan spoke with KJCT about the case, saying Ms. Thorsby had requested a cremation of her parents.
Terri's mom died in July of 2014 and her father in January of 2015. According to the complaint filings, Four Corners Cremation and Burial society in Cortez was her chosen funeral home. However, they worked with Sunset Mesa to do the actual cremation.
"The day after Thanksgiving Ms. Thorsby received a letter from the FBI saying that she could be a victim of a crime," said Chris Cowan, lawyer, Downs McDonough & Cowan, LLC.
After reading the letter they learned her mother Mildred Carl was dismembered and sold, including her pelvis, both arms, her knees, right leg, and head.
The FBI is still investigating where her father, Larry, ended up.
"When Ms. Hess takes the stand, she is going to have some tough questions to answer and how she thought that any part of this was right and any part of this was dignified," said Cowan.
This is the third lawsuit filed against Megan Hess and more lawsuits are expected. The law firm says Hess is acting as her own lawyer defending the lawsuits after her earlier counsel withdrew.
"Unimaginable things that occurred at that crematorium and the mindset and the thinking that was going on as these people were dismembered and body parts were packaged and sold and loved one's remains were cremated. We also understand that many of the remains were not the actual remains of the loved ones," said Cowan.
Outrageous conduct, fraud and breach of contract are just a few of the things Terri is suing over, on that list also, severe emotional distress.
The Montrose Sheriff has the paperwork and summons and will to serve Hess this week. She will have 21 days to appear before the Court.
Megan Hess is due back in court in March for a previous lawsuit.