Thanksgiving week could end with our first snow of the season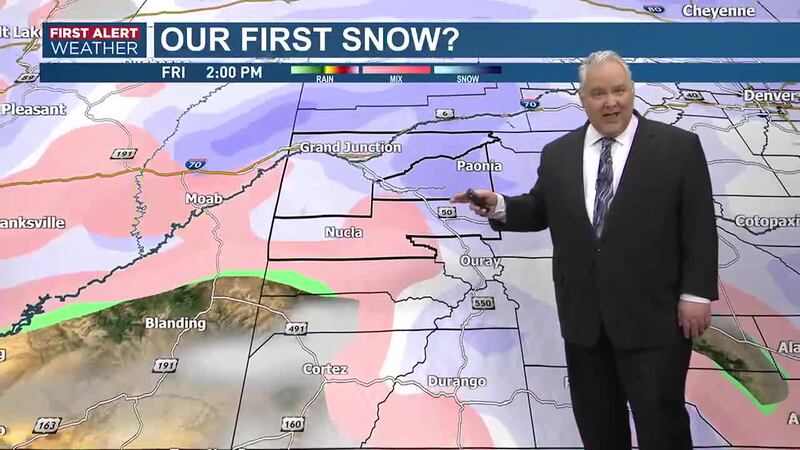 Published: Nov. 20, 2023 at 7:41 PM MST
GRAND JUNCTION, Colo. (KJCT) - There are two main features of concern with this week's weather: Thanksgiving and a Black Friday storm system that could bring the season's first snow for a lot of us.
Thanksgiving Forecast
Thanksgiving Day precedes our next weather maker. Thanksgiving itself will be dry, but clouds will increase. We'll be mild with temperatures topping out in the lower 50s for most areas of the Western Slope.
Snow Possible Friday
Our next weather maker arrives on Friday. It could bring the first snow of the season for a lot of us in the valleys. Higher elevations have had snow a few times. There's room for change. Right now, snow looks to increase between midnight and 6 AM. Periods of snow appear likely throughout the morning and early afternoon, then it will fade between 1 PM and 4 PM.
Turning Colder After Friday's Snow
We'll turn much colder after that storm system passes and the snow clears Friday evening. High temperatures this week will be in the low-to-mid 50s with upper 40s in the coolest areas. Lows will be in the mid-to-high 20s. Then Friday's highs will only be in the mid-30s at the warmest - and even that may happen just after midnight. The weekend's highs will be in the 30s to lower 40s with lows in the teens and lower 20s.
Our Next 24 Hours
This evening will be clear. We'll cool from mid-40s at 6 PM to lower 40s at 8 PM, then to upper 30s at 10 PM. The rest of tonight will be clear. Low temperatures will be near 28 degrees around Grand Junction, 24 degrees around Montrose, 26 degrees around Delta, and 19 degrees around Cortez. Tuesday will be sunny with a few passing clouds. High temperatures will be near 52 degrees around Grand Junction, 48 degrees around Montrose, 51 degrees around Delta, and 52 degrees around Cortez.
Copyright 2023 KJCT. All rights reserved.