Colorado house fire kills two children and injures seven other people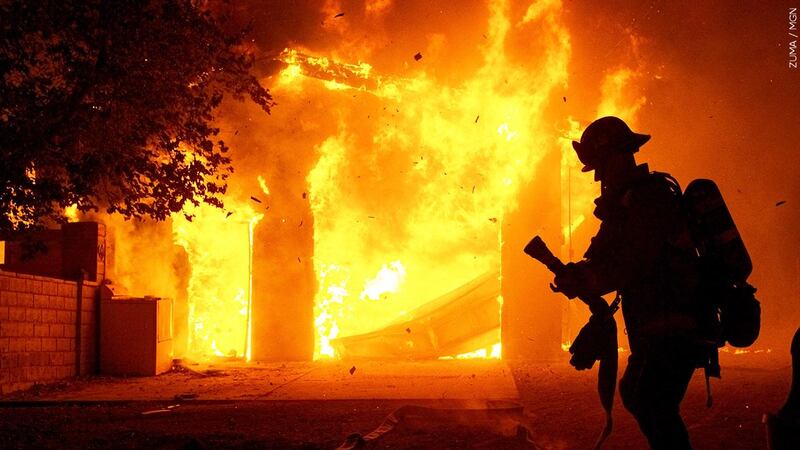 Published: Sep. 21, 2023 at 1:51 PM MDT
DENVER (AP) — A fire engulfed a home near Denver on Wednesday night, killing two children and injuring seven other people, according to Aurora Fire Rescue.
The fire department responded to the blaze near midnight at the single-family home.
Neighbor Nan Page-Stevens woke to more firetrucks and police cars than she had ever seen as responders mounted ladders on the house to get to the bedrooms on the second floor.
One firefighter cradled a baby and sprinted toward an ambulance, Page-Stevens recalled. "The saddest was the little one," she said, inhaling through tears.
Just days before, she had brought the kids red, white and blue popsicles.
That night, firefighters found and pulled the nine victims out of the conflagration and brought the fire under control, the agency said.
"Obviously it's really hectic, you know, there's nine patients of which, you know, a majority of them were children," said Andrew Logan, the agency's spokesperson, when asked by reporters to describe the scene Wednesday night.
All nine caught in the fire were brought to a hospital, three in urgent condition and six in life-threatening condition, including the two children who died, Logan said.
On Thursday, investigators moved in and out of the home, the smell of smoke still in the air, and two vases sat on the sidewalk filled with pink and yellow roses.
A dog was also found and rescued. The cause of the fire was still under investigation.
___
Jesse Bedayn is a corps member for the Associated Press/Report for America Statehouse News Initiative. Report for America is a nonprofit national service program that places journalists in local newsrooms to report on undercovered issues.
Copyright 2023 The Associated Press. All rights reserved.