Japanese Beetle declared 'public nuisance'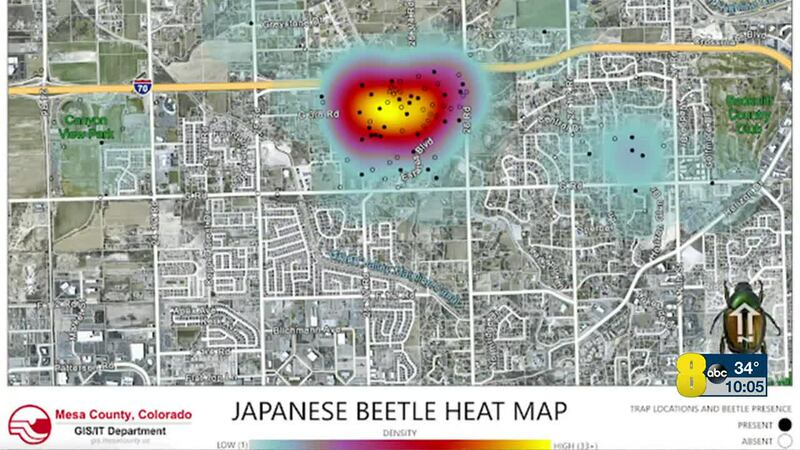 Published: Mar. 12, 2023 at 3:42 PM MDT
GRAND JUNCTION, Colo. (KJCT) - The Mesa County Commissioners officially declared the Japanese beetle a public nuisance.
If the species is not dealt with properly, local leaders say it can affect several layers of the local economy. Agriculture and agriculture tourism bring in approximately $80 million annually.
The invasive insect feeds on grapes, peaches, sweet corn, trees, turf grass, and ornamental plants, all things the valley places a big emphasis on. If it establishes a breeding population unchecked, experts say it will cause severe damage to local farms and landscaped properties.
In an op-ed, Commissioner Bobbie Daniel said the county will implement an action plan starting in April.
The plan will focus on treating the infested areas in the northern part of Grand Junction by assisting 1,200 property owners from Canyon View Park to Bookcliff County Club with a chemical called Acelepryn, a pesticide Daniel claims is an effective, non-toxic insecticide that's safer than dish soap.
The county said it will treat the areas with the owner's consent.
Property owners can sign the consent form at mesacounty.us, treat their lawns with grub control, or dry it down to brown this spring.
If nothing is done, the beetle grubs may destroy the lawn, eating the roots and leaving a brown dead lawn before forging on to establish themselves over greater areas.
A further breakdown of what Mesa County is doing to treat and prevent the spread can be found here.
For more information or to sign up for free treatment in the infested area, visit mesacounty.us, email weed.pest@mesacounty.us, or call (970) 255-7121.
Copyright 2023 KJCT. All rights reserved.