Sheriff's office mourns K-9 bloodhound who died unexpectedly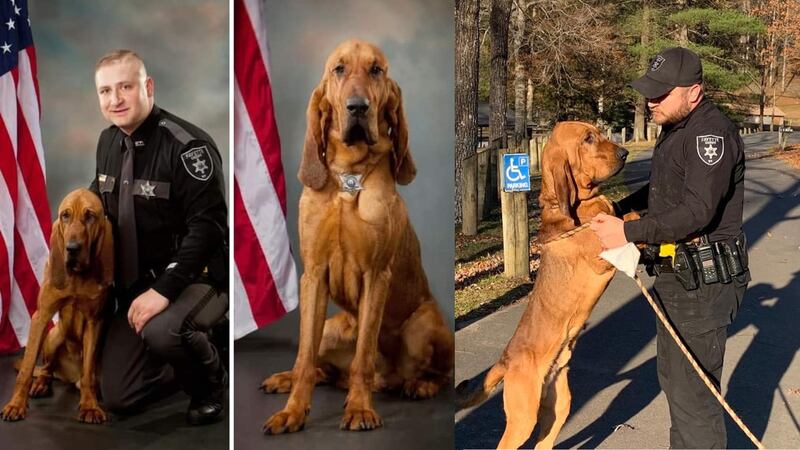 Published: Jan. 17, 2023 at 1:32 PM MST
FAYETTE COUNTY, W.Va. (Gray News) – A sheriff's department in West Virginia is mourning one of its beloved K-9 officers who died unexpectedly.
The Fayette County Sheriff's Office said Waeylin, a 2-year-old bloodhound, died Sunday evening.
The sheriff's office said Waeylin experienced a stomach disorder and was rushed to a veterinarian's office, where he underwent emergency surgery. Waeylin survived the surgery but died shortly after.
Waeylin specialized in tracking. Whenever the sheriff's office responded to a crime scene where the suspect was unknown and had fled from the area, Waeylin was often called to respond.
Waeylin tracked down suspects in arson cases, burglaries and more. He also helped in many missing person cases.
"Waeylin's death is a tragic loss to the Fayette County Sheriff's Office and to the citizens of Fayette County, but especially to Waeylin's handler and partner, Corporal Ryan Fox," said Sheriff Mike Fridley. "We are sincerely appreciative of the support shown to our K-9 Unit by the citizens of Fayette County over the past several years. We will all greatly miss Waeylin."
The sheriff's office said Waeylin was also a great public relations deputy. With his big nose, huge floppy ears and gentle demeanor, he was an instant hit with everyone he met, especially young children.
"Waeylin was like part of my family," said Corporal Ryan Fox. "When we weren't out working, Waeylin would be playing or just hanging out with me. We were buddies and it was nice to have someone to talk to. He never talked back of course, but I swear he understood everything I said to him."
Copyright 2023 Gray Media Group, Inc. All rights reserved.